If  you are looking for good black owned Interior Design Companies in South Africa, you are in the right place. South Africa is filled with skilled creatives offering these services but they can be difficult to find so in this article, we have put together a list of 5 of some of the best that you can consult to turn your project into a beautiful home.
What does in interior designer do
An interior designer is a professional who specializes in creating functional and visually pleasing interior spaces. They work with both residential and commercial clients to design spaces that are tailored to their needs and preferences. The specific responsibilities of an interior designer may vary depending on the project and the client, but generally include:
Meeting with clients to discuss their needs, preferences, and budget
Developing design concepts and plans for the space, including layouts, color schemes, and furniture selections
Preparing detailed drawings and plans, including floor plans, elevations, and sections
Selecting and specifying materials, finishes, and furnishings, such as flooring, lighting, and window treatments
Coordinating with other professionals such as architects and builders to ensure the design is executed correctly
Managing the project from start to finish, including ordering materials, overseeing installation, and ensuring that the project stays on schedule and within budget.
Interior designers also need to be up-to-date with the latest design trends, materials, and technologies, as well as building codes and regulations. They also need to be able to communicate effectively with clients, contractors and other professionals and need to have strong problem-solving and project management skills.
Our list of Black Owned Interior Design Companies
Mood Interiors
Mood interiors is one of the most fresh and innovative interior designed firms in South Africa, with an eye for creating luxurious and sophisticated interiors that combine elegance with functionality. Founded by Lethu Mkhwanazi in 2019. Having started just before the pandemic, Lethu quickly carved out a place for himself by serving a neglected market of those who want to have beautiful interiors but could not afford to pay an arm and a leg.
Mood became one of the first interior designers to offer virtual design services in the middle of the pandemic and created affordable interior design packages that drastically reduced the price of entry by giving the customer the exact level of service they need and not making you pay for things you don't need. So if you want to just to have a room designed by a professional interior designers and to the actual shopping and placement pieces yourself, you can do that.
An example package for a 16sqm room we did with them cost R2000 and included the following:
Moodboard for inspiration
2D floor plan
Shopping list
PDF Full description of design
3D Modelling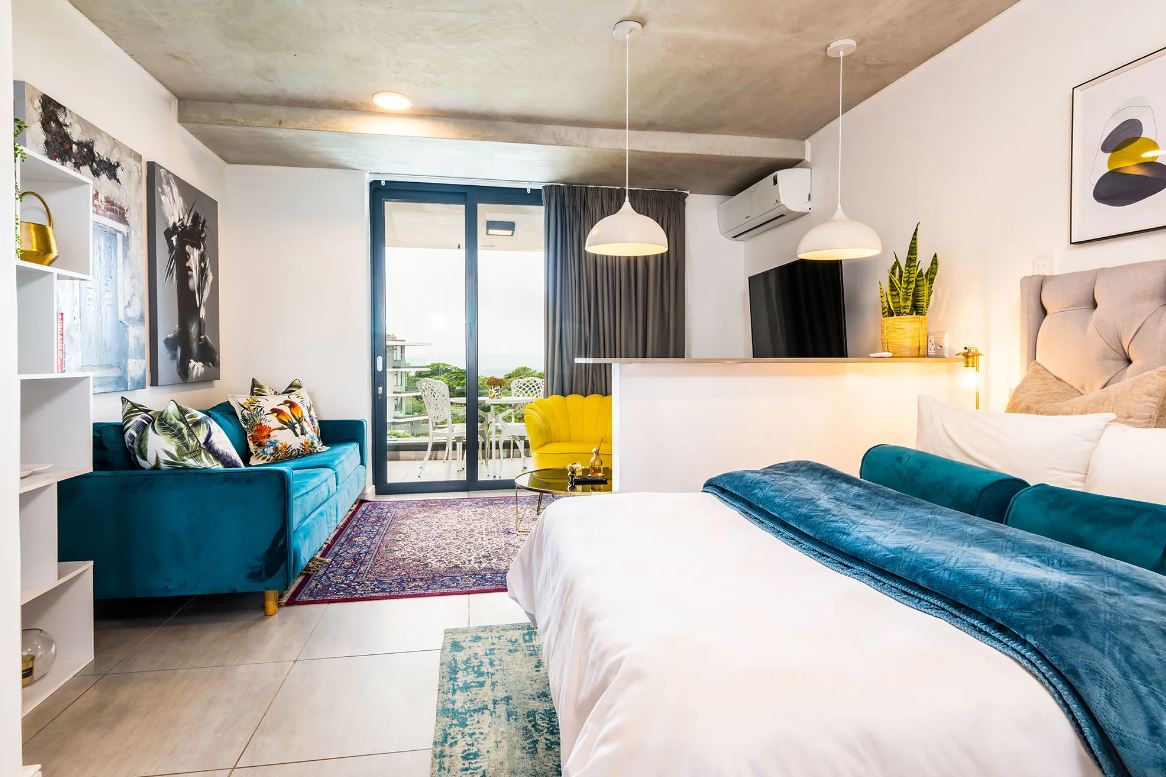 You can see more of their packages on the Facebook page  or contact them through their website for a quote.
What sets Mood Interiors apart is their ability to create interiors that reflect their clients' personalities and lifestyles. They listen to you attentitively as a client to understand your needs and preferences before crafting a design that is tailored to your vision vision.
---
Jacoline S Designs
Jacoline S Designs is an interior design studio located in Johannesburg.
The company is run by Jacoline Phala, who is also a trailblazer in the industry. She is a fully qualified interior designer, holding a BA Degree in Interior Design at the internationally renowned Greenside Design Center.
Her interior design style is modern, with a touch of traditional, exemplified by pieces such as the textured chairs and Indzila bar stool inspired by the chocker historically worn by married women in the Ndebele tribe, seen in the image above.
In 2015 she appeared in the SABC3 show, Design a Home, and impressed judges with her innovative approach, which ultimately led to her winning the competition.
After cutting her teeth in the industry, working under other interior design houses, she stuck out on her own in 2018 with Jacoline S Designs. The company has been operating for six years now and is developing an impressive portfolio of designs.
Her work has been featured in design publications such as Elle Decorations and in TV adverts. She has also appeared on other popular TV shows that cover interior design, including Top Billing and The Afternoon show.
---
Donald Nxumalo
Donald Nxumalo is one of the most well known black interior designers in South Africa and with good reason. The man from Pretoria West has been blazing a trail in the design industry for more than 10 years.
His personal style is modern with a touch of traditional but his  portfolio runs the gamut.
We first saw him as the first prize winner in the SABC Win a Home competition, and from there his work went on to be featured in popular publications like the Mail and Guardian, Elle Décor, Destiny Man and House and Leisure
He offers his services through his company, DNX, which employs a skilled and professional team that assist clients to put together the perfect brief.
His business is very active on social media, with their Instagram profile boasting more than 50,000 followers. Their social media presence also sets them apart from other companies as there are plenty of images for you to see the different projects that they have completed and the styles that the have done to find the perfect one that resonates with you.
DNX's google review score is a whopping 4.5 from 45 reviews, showing satisfaction from the clients that they have served.
Donald Nxumalo was also featured in top billing, which was the crème de la crème of South Africa's luxury shows, where he showcased one of the properties they completed.
---
Thobeka Swana
We are of course in South Africa and we have to feature an interior designer on this list that has a style that we consider distinctly South African.
Thobeka Swana runs her design firm, From the desk which has been operating since 1999 and is well-known among design circles.
The aim of From The Desk is to create homes that are homely, warm and express a distinct Africanness in their style. This is done by using natural materials and warm colours that are characteristic of the South African style.
All of this is done while artfully keeping interiors modern and very much with the times.
In addition to the furniture, they use art pieces and ornaments that are designed by local artists and craftsmen. Their work embodies the term, proudly South African.
---
Ipapatse Design Studio
Ipapatse are a black-female owned interior design firm based in Gauteng, with a footprint throughout SA. Founded in 2010 by Lebo Zondi a trained interior designer who brings extensive design experience. Ipapatse helps create designs that are harmonious and have a beautiful balance, unity and flow. Our aim is to design luxury interiors that evoke energy, stimulate the senses and inspire a feeling of total well-being.
Ipapatse begins to curate every detail from a place of exploration. Collaborating with clients and their architects to achieve their dream spaces with a boutique ambience, is what we pride ourselves in. fittings and furniture are personalised and "made-to-order" throughout the space to satisfy each client's individual needs and desires. Personal hands-on attention is given by our team to each project from start to completion.
How to choose your Black Interior Designer in South Africa.
When choosing your African interior designer, it's important to consider similar factors as mentioned above.
Style: Look for a designer with a portfolio that aligns with your personal style and preferences.
Experience: Look for a designer with experience in the type of project you're planning, whether it's a home renovation or a commercial space.
Budget: Choose a designer who can work within your budget and is transparent about their fees.
Communication and Listening: Choose a designer who is responsive, easy to communicate with, and listens to your needs and preferences.
Reviews and portfolio: Look for designers with a strong portfolio and positive reviews from previous clients.
Certifications and memberships: Consider hiring a designer who is a member of professional organizations such as the South African Institute of the Interior Design Professions (IID) or the Design Institute of South Africa (DISA).
It's also important to check for the designer's availability, if they are able to work in your location and if they have an understanding of the local context and culture. It would be ideal to meet them in person or have a call to gauge their communication skills and understanding of your needs.