If you are looking for the best debt review companies in South Africa, this article will help you in making that choice. If you are confused about your debt repayment or are over-indebted, then loans for debt review might be the best method to protect your assets. You can easily get a structured and affordable repayment plan for your outstanding debt through this debt review.
Many people in South Africa struggle with debts that they aren't able to pay, and debt counseling has helped indebted clients to find their way out of a debt black hole.
What is debt review?
Debt review, also known as debt counselling in South Africa, is a process where someone who is in debt hands and is unable to manage their debt hands over their debt negotiation over to a debt counsellor or debt review company, who then negotiate with your creditors to pay off your loans and then consolidate your debts into one loan that you pay to the debt review company.
---
Our list of Debt Review Companies
Debt Rescue

Debt Rescue is one of the biggest debt review companies in South Africa and also the most popular. The company was founded in 2008 and has been helping clients become debt-free for more than 15 years.
The have a proven track record and have often appeared in the national news as experts in the field of debt.
They operate nationally, serving all cities and towns in South Africa.
Debt Rescue will offer you what you can afford. By following all the instructions in 5 easy steps, you will be from over-debt to debt-free. The company has a solid reputation and has been a winner of the annual debt review awards in the category of large national debt counsellers on multiple occasions.
They are one of the most trusted debt review companies in South Africa, and have appeared many times in the national news such as SABC News and eNCA as correspondents regarding personal finance.
Their track record is a good one and they have helped many over-indebted consumers to get out of debt. If you are in need of debt counselling, they offer a free assessment to all clients in which they will assess your credit situation and help you with the way forward. To get in contact with them to enquire about debt review, you should go to their contact page where you can fill in your contact details and they will call you back.
Thereafter, they design a debt rescue plan for you with an assigned registered debt counsellor to manage your account. You will be placed under debt review and protected from your creditors, with a repayment plan put in place to help you on your out of debt.
Pros and Cons
Pros
Completing the debt assessment is free of cost
Multilingual assistance
Regulated rates
High success rate
The have a national footprint
Cons
You cannot apply for a new credit card.
---
The Debt Review Company aka Debt Corporation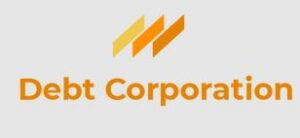 The Debt Review Company (also known as debtcorp) is one of the debt review companies in South Africa that I have personal experience with and I can vouch for them.
The company is run by its founder, Marcel, who is a qualified debt counsellor with extensive experience.
Under his leadership, the company strives to offer a professional service to clients and ensure that they are adequately informed as they are guided through the process.
The company also works ethically and genuinely strive to assist clients and also respect their privacy.
Below is a screenshot of one of the reviews they have received.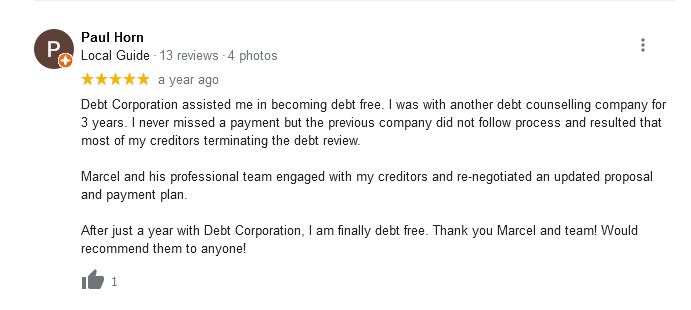 They are headquartered in Pretoria and the operate nationally, assisting indebted customers throughout South Africa.
Their doors are also open for in-person consultation and if you want to visit their offices, the address is 8 1st St, Menlo Park, Pretoria, 0018
You can get in touch with them through their website where they have a WhatsApp link that you can use, or fill out the contact form for them to call you back.
---
Zero debt

Zero debt is one of South Africa's leading debt solution providers. It is a great debt review company that protects your assets by arranging a structured affordable repayment plan.
Zero debt is a very good debt consolidation company that consolidates all the products in one monthly payment with reduced interest rates. After registering under this debt review company, creditors cannot take legal action against you.
They always strive to give you full information according to your financial situation. Moreover, you will also get a free no-obligation debt assessment bio for experienced professionals.
Not only for the simple person, but we can also help you out if you are over-indebted or blacklisted. Zero debt is considered to be the best debt consolidation company with satisfied customers.
After going into debt review through this company, you can easily evaluate what you can afford and retain sufficient funds for your living expenses.
The company offers three types of services which are debt counseling, debt review, and debt consolidation. Moreover, on the other side, you can also check the Debt calculator by providing the information step by step.
Pros and Cons
Pros
Good reviews
Reducing your current interest rates
Affordable repayment plan
Cons
Your debt may take a longer time to repay.
---
Debt Care

Debt Care is an experienced debt review company that has 50 years of experience. It is a renowned company in South Africa to give you all the solutions.
The company claims to have helped 15,000 people in becoming debt-free since 2008. Moreover, the company is considered in the top 5 debt review companies.
There are many benefits of debt counseling when you register under this debt review. You only have to pay reduced monthly payments. However, if you want to go for lower repayments, the company can negotiate reduced monthly repayments with your credit providers.
Now you do not have any threat from your creditors because they deal with the credit provided by themselves. Moreover, you will not get blacklisted while undergoing this debt counseling. You will also have no more stress on payday when you go with debt care.
According to a survey, the company claims that 95% of their clients are debt-free within 36 to 60 months. While giving a payment under debt review, you may be surprised to know that there are reduced payments.
After registering with the debt review company, if you have to pay 10,000 in a month, you can only pay 7000.
Pros and Cons
Pros
Reduced monthly repayments
No blacklisting
Debt-free in less duration
Cons
You must have a steady income.
---
Debt Busters

Debt Busters is helping thousands of South Africans to build a brighter financial future. According to knowledge, unfortunately, there are more than 12 million South Africans who have bad debt.
The company is specially made for these types of people who are in a bad financial situation. Most surprisingly, the company is a part of intelligent debt management, South Africa's leading debt management company.
The company helped its customers provide the most suitable and affordable financial solutions according to their financial situations. Debt Busters gives you different debt solutions such as debt consolidation, insurance, debt counseling, debt settlement, credit monitoring, and debt management.
Debt busters always claim to be more experts as compared to other South African debt counseling companies. Registering under this debt solution is very easy as you do not have to go for the necessary paperwork.
It is a reliable company that also won the best debt counselors award for five consecutive years.
Moreover, it gives you 24/7 customer service so that you can contact them anytime online. They always strive to help their customers with amazing debt solutions.
So through their services, if you have bad debt, they can create a financially healthy life for you.
Pros and Cons
Pros
Nominee in Best Debt Counselor awards
Manageable interest rates and fees
Cons
A lot of bad reviews on them online
Complaints about spamming with calls and sms's
---
Debt Sage

Debt Sage is one of the most reliable debt management companies in South Africa. It is also a transparent debt review company to help clients to live better financial lives.
They always strive to help clients take back control of their finances to lead a quality life by applying for debt review. The company's main purpose is to guide many over-indebted consumers in South Africa to start a wealthy life again.
Now you can save on lower interest rates and fees whatever the credit score you have. It has the capability of protecting your assets in a very good manner.
The company also gives you protection against any legal action by creditors. Most surprisingly, when you are under debt review, it also improves your money habits, and if you talk about this company, then it is a fantastic one.
The company's focus is on debt elimination, paying off your debt faster and easier in a manageable way. It also helps you out with debt consolidation, where you can transform your larger loan into smaller multiple loans.
In addition, a debt management plan is also available so that you can pay off your debts at a rate you can afford.
Pros and Cons
Pros
Genarally good reviews found about the company online
Reliable and transparent debt review company
Protect your assets
Improve your money habits
Cons
During debt counseling, you are not allowed to have more credit.
---
National Debt Counsellors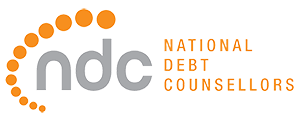 National Debt Counsellors is a reliable debt consolidation company who is helping innumerable over-debt people. You can now pay whatever you can afford with the help of professionals.
So going under a debt review will make you feel relaxed and relieved where you can also undergo your financial expenses. By doing this, the debt review also provides you with immediate protection for you and your assets.
So, in other words, taking their services will help thousands of South Africans to lead a healthy financial life. Moreover, the experts here will negotiate in a better way with the creditors on your behalf.
Therefore, the creditors will provide you with reduced repayments. And when you pay your monthly installment, they apply to clear your credit report. You can contact this company and get a free, confidential financial assessment from their experts.
So no one knows what you are paying as your monthly payment. First of all, the company will give you an assessment test online, and if you qualify, they will send you an application form.
After registering in this debt review company, the professionals will notify your creditors about your debt review.
Pros and Cons
Pros
Easily regain your financial freedom
Flexible relationship
Reduced installments
Easy monthly installment
Cons
Debt might take longer to pay off.
DC Experts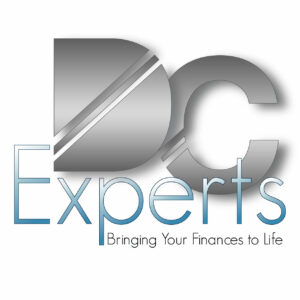 If we talk about the popular debt review companies, then DC experts are one of them. It was made with so many efforts to provide you with the best customer service and debt Management Solutions in South Africa.
The experts know very well what the current situations of their customers are and how to deal with them. So they feel relaxed when paying the debt in small amounts.
The employers in this debt review are flexible enough to develop excellent relationships with all credit providers. The company is also striking a lot so that the customer could easily pay their debts.
The company's primary goal is to provide cost-effective and efficient services to over-indebted people. The experts are very intelligent and every day come up with new ideas on how to negotiate with credit providers.
They are very dedicated and do amazing teamwork. The team is putting in a lot of effort, which shows customer satisfaction in the form of fantastic reviews.
You can get debt counseling here if you are one of the people who cannot handle your debt repayment. It is actually for the legal process in which the consumer declared himself over-indebted. After that, all the negotiations with the credit providers are done by the experts.
Pros and Cons
Pros
The have been around for more than 10 years
Plenty of good reviews for the company
Winner in the 2021 Debt Review Awards
Highly rated customer service
Dedicated teamwork
Cons
---
Pioneer Debt Solutions

Pioneer group.co is also an excellent Solution company for the people of South Africa. The main motto of this review is to make over-indebted people be financially healthy.
Along with the company's debt review, it also gives you insurance so that your future is secured. Debt consolidation helps people lead a healthy financial life instead of feeling depressed and tense in over-indebted situations.
Now you do not have to pay more money that you cannot afford. The good thing about the company is that it provides you with legal protection very well.
So after going under this chapter, you will have peace of mind that all your debts will be paid. Peace of mind is the first thing we think about in life, so after going under this debt consolidation, you will feel very relaxed and relieved.
So, in the end, you will be free after paying the monthly repayment in a more manageable way.
The debt consolidation will provide you with experienced people who will give you different suggestions about effectively handling your money.
Pros and Cons
Pros
Legal protection
Healthy changes in the way you spend money
Not harassed by the Creditors
Cons
You must be a South African citizen.
---
How does debt review work?
Step 1
The debt review company, first of all, sees your financial situation and works out your debt profile.
Step 2
Then all the paperwork is done for a formal review.
Step 3
The debt review company calls for confirmation from the creditors and then works out a repayment schedule with you.
Step 4
After that, you are listed on the National Credit Bureau's NCR, a debt help database.
Step 5
In step 5, you will also get a notification from NCR that you have applied for a debt review.
Step 6
The debt review company then talks with all the creditors to confirm a repayment plan.
Step 7
Then the creditor agrees with you, and a consent order is issued.
Step 8
In the last step, you start paying your debt with peace of mind.
Detailed Guide: How Debt Review Works
---
About the Best Debt Review Companies In South Africa

A debt review company is the perfect solution for individuals in desperate financial situations and unable to repay their debts.
The debt counselling will arrange all the repayment in reduced amounts so that you can also maintain your living assets.
So a debt review is very helpful in protecting you and your assets. Registering with a debt review will take you to relief so that you can pay the repayment in monthly installments.
In this post, we will also review some high-class debt review companies in South Africa. This article will help you choose the right company according to your requirements and financial situation. So let's review all the debt review companies in South Africa.
---
What is a debt consolidation loan?
A debt consolidation loan in South Africa is a new loan dhat is taken out to pay off other individiual debts. All the individual loans are combined into a larger loan, that usually comes with a lower interest rate or lower monthly payments to help you clear your debt.
People who are unable to pay their debt repayments can go for a debt review. The reason is that their income is insufficient for keeping up with their debts.
Remember that debt review forms are concerned with the National Credit Act and are usually controlled by the National Credit Regulator ( NCR ).
Who are debt review consultants?
Debt review companies are usually are the best in protecting your assets and debt-paying. They arrange for you an affordable and structured repayment plan. After rearranging, the amount will be lower and controlled.
Debt solutions
The debt solution businesses are very good at consolidating your debts. So you have to give one payment every month at reduced interest rates depending on your situation and circumstances.
When you keep yourself under debt review, your creditors can't take any legal action against you. They cannot take any action, especially when you are unable to pay your debt.
At this critical time, the debt review company will assist you with debt at reduced interest rates from your credit provider. So, therefore, your overall repayment amount is lowered, ending up with less debt every month.
Benefits of debt review
Debt review companies are actually made for the betterment of the people who are under debt. We will discuss the various benefits of debt review in this section.
Restructuring of debts
The debt counselor in a debt review company will help you in restructuring your debts. This is why you just have to pay a reduced monthly debt repayment according to your situation.
You have to pay that amount to a payment distribution agency. This agency will then pay all your creditors on your behalf. When you have to pay the reduced amount, you will then afford your monthly repayment. This will also help you in being able to cover all your living expenses.
Communication with credit providers
Now, you do not have to communicate with your credit provider further. The reason is that you are under debt review, and your company is responsible for negotiating with the credit providers. After that, your debt counselor will cover all further communications on your behalf.
An affordable monthly budget
When registering with a review company, your debt counselor will give you a new affordable monthly budget. Therefore, all your debt repayment plan is made according to your needs.
The debt review company will also advise you on how to manage the payment. Debt review guidance will assist you in how to handle your finances to ensure a long-term debt-free future.
Discussion with credit providers
When you are under debt review, your counselor will discuss all the matters with your credit providers. By negotiating with the credit providers, you will help in extending your debt repayment plans.
The debt review will decrease the monthly payment you have to pay towards the debt every month. So the company is very helpful in getting up with reduced repayment to afford to pay for living expenses.
Legal protection
It reminds you that when you are under a debt review company, you may be threatened by your creditors. Usually, the creditors take legal action against you when you register for a debt review.
Most conveniently, you are protected by the NCA under debt review. So when the NCA protects you, your creditors will no longer be allowed to hassle you. As soon as the creditor requests repayment, the counselor will handle all your legal matters.
FAQs
Registering to a debt review company is a good idea or not?
Remember that debt review does not mean that you are avoiding paying the debt, but it is a manageable way to put off what you have.
People who are used to getting into debt continuously do not enjoy getting new credit until they have finished paying the previous one.
How long does the debt review last?
Normally, the debt review lasts between 24 to 60 months, but it depends on different factors and situations. The reason is that every person has different financial circumstances.
If he can pay more debt at one time in a month, then the duration is less, and if he cannot pay more, the duration can be longer. So it is sometimes difficult to see how long the process is.
Is it possible to change the debt review companies?
Yes, it is possible. You can change your debt review company, especially when you are unhappy with your debt counseling services.
Sometimes, if you are unsatisfied with the service, so you have the option to change and transfer to a debt counselor of your choice.
Manageable repayment plan
The debt review is very helpful in changing your life and also helpful in organizing your debt.
It assists you in structuring payment plans that are manageable as well as achievable. Everyone knows that when you undergo the process of debt review, you are taking control of your finances and want to get a debt-free life.
In this post, you will get enough information about debt review. On the other side, you will also read about different debt review companies in South Africa. Now it's your choice from where you want the debt review.
Conclusion
At the start, it is very tough to put you under the debt review because you have any questions in your mind. But debt is one of those problems that only get bigger if left alone (because of that little thing called interest). Sometimes it is better to just go through the bit of difficult in the present by getting professionals to help you out of the bad situation so that you can be better off in the future.
The loans for debt review also reduce the amount of admin versus having multiple loans to manage, which all come with associated transation fees etc.
The reason is that the debt review company will provide you with a manageable way to pay your debt in the form of monthly installments. Also, this monthly installment is designed according to your financial situation.
Fill out an online application, and a reputable company will review your entire situation from start to finish. If you can pay a handsome amount in the monthly installment, you will ultimately be cleared from debt in almost 3 to 5 years.
Keep in mind that all debt counseling providers are up to the mark and try to make you debt-free. These debt counseling providers offer the same service because, in the end, their destination is the National Credit regulator, where all your debt is reviewed.
Make sure that you choose the company wisely and commit yourself to pay the amount in a particular month. You can choose from various high-quality and reputable debt review companies in South Africa by reading this post.
A good debt review provider will be ideal for all the costs. They negotiate about you on your behalf in a professional way. So they are staying by your side. It is your responsibility, to be honest, and submit the monthly amount on time.
---