Dropshipping in South Africa is a topic that is recently attracting a lot of interest but information on how to operate it is very limited. Internationally, it is an income strategy that has allowed people who have access to an audience to sell their products around the globe from anywhere in the world.
You might have seen someone on YouTube or other social media tout this as a lucrative model  and are now looking for more information.
If you are interested in Dropshipping from South Africa, it is possible to employ it as a supply method. There are people who have successfully used this model for a limited time. There are some challenges that exist to this model that are specific to South Africa. In this article I will be giving you information on some of these obstacles that you can face as well as alternate solutions that people employ to this method.
How I Make R25,000+ A Month Working Online
What Is Dropshipping
Drop shipping is a supply chain management method in which the retailer does not keep goods in stock but instead transfers the customer orders and shipment details to either the manufacturer, another retailer, or a wholesaler, who then ships the goods directly to the customer.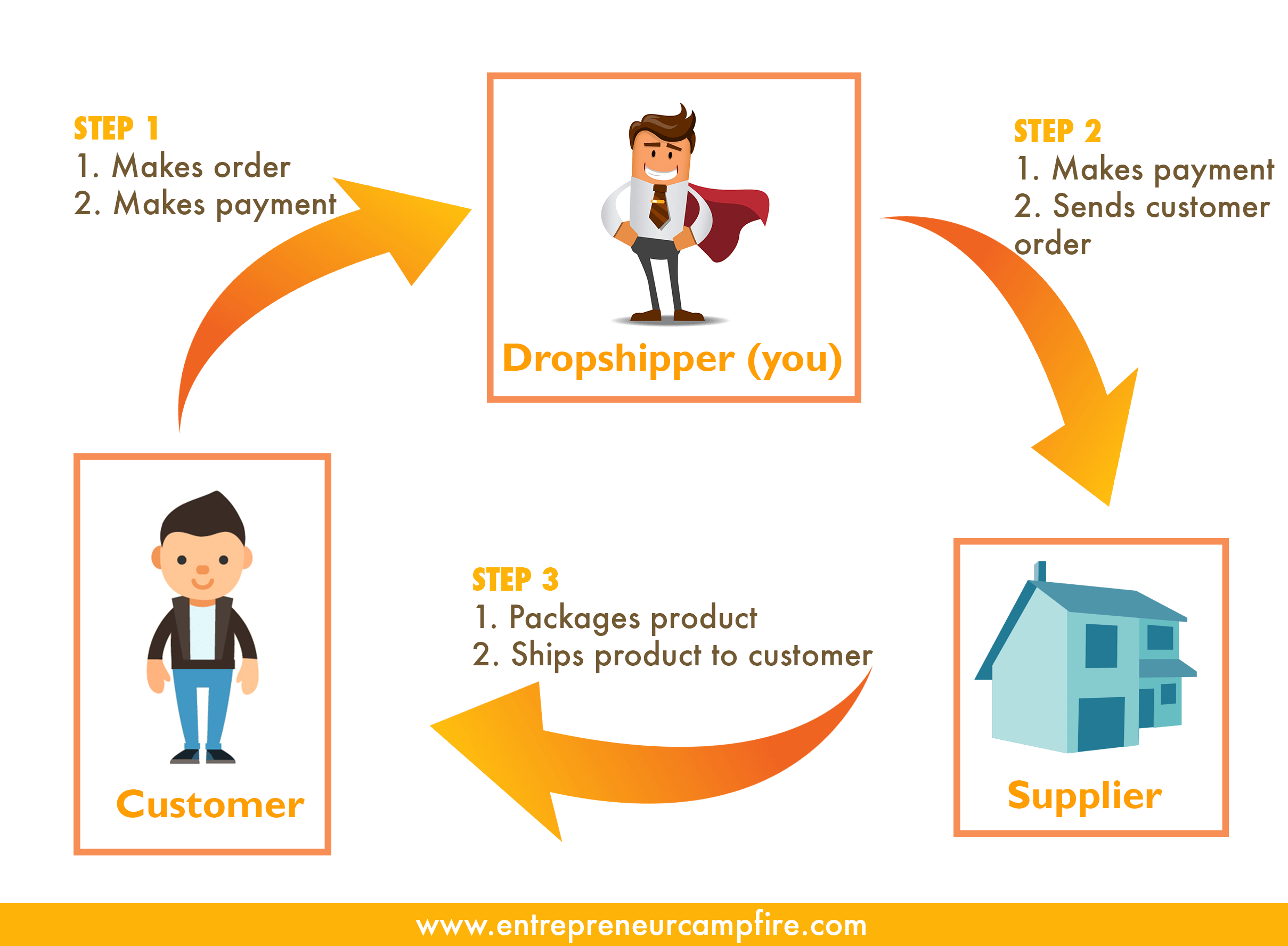 In other words, drop shipping is selling of products to your customers without you having an actual shop or having to manufacture the products.
Who Is Dropshipping For?
Dropshipping is for anyone who can market to people online and wants to do so without handling inventory themselves. Examples of people who use dropshipping are internet marketers and social media influencers.
For example, if you are a social media influencer and have large following that is highly engaged with your brand then you can do dropshipping to sell products to your audience. Your role in the process is to bring the customers and manufacturers together through your brand.
If you are competent in internet marketing then you can create an online store from which you will sell products through that store. One of the most popular methods for marketing products for dropshipping is through Facebook marketing and through Facebook ads. You have likely seen ads while browsing through your Facebook and Instagram that offered shipping worldwide for some clothing item. Those ads were most likely from stores that use dropshipping.
If you have are a social media influencer with a large following, dropshipping is a potential business model that you can use to monetize your online brand. Say you have a social media page with a large following and your page is largely centered around fashion. If your audience is highly engaged then you can market specific items to them that are sold by a supplier who does dropshipping.
What Do I Need To Get Started
To start dropshipping you will need an online store (which you will use to interface with your customers) and a supplier that will fulfill the orders that customers place through your store.
If you have shopped on an online marketplace before then you have seen, for example, a product sold by TakeAlot and fulfilled by a different company. Fulfillment refers to the packaging and shipping ordered goods to the customer.
The best platform to user for dropshipping purposes is Shopify. This will be where you create your store. They give you a 14-day free trial that you can user to build a test store and see what the platform has to offer.
For order-fulfillment, many people doing dropshipping in South Africa use Oberlo. It is a platform that serves as the marketplace for your products and also allows you to do 'inventory management'. Oberlo is free for the first 50 orders.
Tips For Running Your Online Store
Create a social media ecosystem to drive traffic to your store – Have a social media account on all platforms. Facebook, Instagram and Twitter are the commonly used one but Pinterest and Google plus are also important. Google Plus especially so because a lot of traffic is expected from Google and Google Plus will aid in the ranking of websites in Google.
Have an objective approach towards your products – Do not be biased when it comes to your items. If you think a particular item is the best, that becomes irrelevant if your audience have no interest in it.
Optimize your store for mobile – Optimizing for mobile is easy to overlook but it is extremely important because that is where you will be gaining many of your leads from.
You will have to test a lot – More often than not, the items that sell the most for you will not be the ones you expected the best from
Put the most effort into the things that bring you the most money – Put a product out and see how your audience responds to it if they like it, that is what you can spend more time promoting.
Challenges With Dropshipping In South Africa
Shipping
Pitfalls of shipping to South Africa using international suppliers stem from the bad reputation of the local postal system. Common complaints and obstacles are very long turn around times, strikes, and packages getting lost. This is why for those experienced with buying from amazon, you find that many of the suppliers do not ship to South Africa.
The biggest challenge to dropshipping in South Africa is that to do it in an efficient way that would provide a good customer experience is very expensive.
If you are doing it through Oberlo, the bulk of the products that you sell will likely be from AliExpress. If you use the regular shipping, it takes between a month and 3 months for items to be delivered to customers. There a premium shipping option available but that inflates to cost of shipping by as much as 50% or even 100% of the cost price of the item.
Import Duties
You must familiarize yourself with implications such as customs and excise costs that are levied on imported goods. Research shows that for goods that are R500 or less, not duties are charged.
This however, only applies to the first three purchases from the customer and after that, duties will be charged. Importing charges can be close to half the of what the item costs you. For that reason it is highly important that you highlight during various steps of the purchase process to make customers fully aware of these implications.
Trade Agreements (ePacket)
Unlike in countries where a large number of people see success with dropshipping, South Africa is not on the list of ePacket countries. ePacket is an option that is offered by suppliers in China and Hong Kong, that allows for faster ePacket delivery of products to a number of different countries
Scale
The biggest challenge you will have with dropshipping locally is that we have a very small buying market for dropshipping products in South Africa.
A lot of the successful people online are in the US, EU and Asia, where online commerce is 10 or more years old and the people are comfortable with it and have high speed internet.
The products also get shipped in a reasonable amount of time, allowing the business to have good customer relations which result in organic growth as your business gets a good reputation.
This extends to things like managing returns and refunds efficiently, which can't be done realistically if every sending of a parcel takes 2 weeks.
Alternative Strategies For Dropshipping In South Africa
An alternative strategy when dropshipping locally is to approach smaller local suppliers. This would require you to build the profile of your business in order to build trust with prospective suppliers. It requires more work but eliminates the bulk of the risk of international dropshipping to South Africa.
For warehousing and fulfillment there are dedicated companies such as ParcelNinja and Efinity. For it to work you will have overhead costs, which unfortunately rules out the major selling point for dropshipping. Done this way, you will buy your products and have them sent to one of the local fulfillment companies.
These are the reputable companies which do fulfillment for clients from starter up to the big companies. These companies will store the inventory. When your customer places an order, the fulfillment company will package the product and then ship it to your customers.
Dropshipping To An International Customer Base
If you have an international audience, you can use international dropshipping. Thanks to the global nature of information, it is not uncommon to have an audience that is largely from another country.
You want products to fit specific criteria…
1. The product offers ePacket, ePacket shipping is the fastest (12-20 days), and fairly cheap (usually less than $2), so it won't affect your margins too much.
2. The supplier offering a specific product should have a rating exceeding 4.5 gold stars (for reliability & product quality)
3. You'll want to look at the reviews for specific products, and ensure good reviews from normal countries, and look for product pictures to ensure product quality.
4. Good pictures. A big part of the success of stores is attributed to products/suppliers with excellent quality pictures (which are used for ads).
Dropshipping Status Quo in South Africa
Currently, Dropshipping has a lot of drawbacks that make it particularly different for beginners who are new to internet marketing and eCommerce. But one simple change, such as the addition of South Africa to ePacket would eliminate one most of the challenges in one fell swoop.
There are plenty of South Africans using dropshipping to generate an income and the method certainly has potential. Scaling of the business is where the challenges lie, as the long lead times, the bad track record of our local postal system, and import charges make creating a good customer experience very expensive
Affiliate marketing offers a lot of the benefits that dropshipping offers and is currently a far better alternative in South Africa. You can promote products without having to handle or ship them, which removes the major challenge of dropshipping from South Africa.
Future Solutions
The growth of dropshipping locally as a sustainable method of selling will rely on entry of larger local manufactures and suppliers into the dropshipping domain. Along with entry into the space, companies need to increase their online presence so that potential partners can find them. This is an area where South African entities, in general, are behind the curve.
There are, however, innovative companies who are driving to progress on this end but just do not have the reach yet. One company that tends to be at the forefront of these initiatives is Mantality, who do have dropshipping along with other retail methods for partner publisher to monetize. Hopefully other suppliers will follow their lead.
The Final Word
From what I have seen over the last 3 years, dropshipping is simply not feasible in South Africa. I have seen various people create dropshipping stores have none of them have lasted more more than a year.
On the other hand, affiliate marketing has exploded over the last year in South Africa, with many of our local companies creating their own affiliate programs. This includes well-known brands such as USN and Mr Price.
I will definitely recommend that route since it has all the pros (and more) of dropshipping without the  prohibitive drawbacks.
My #1 Recommended Affiliate Marketing Platform
---
Thank you for reading and I hope that you enjoyed this article. If you have any questions or want to leave your own, personal review, leave a comment below.