Artificial Intelligence or AI is the new buzzword that is rapidly changing the face of business throughout the world. Local companies are also starting to get onto the AI training, with 46 percent of businesses stating that they are piloting AI technologies. Though the market is still a fledgling in South Africa, there are a few innovative companies that are making huge strides in the field.
The Allure of Artificial Intelligence in South Africa
We are at the beginning of the 4th Industrial Revolution and innovative individuals and businesses are building systems that are changing the workings of business.
AI is a great way to get a competitive edge in the digital age every business at any scale should look into how they can augment their business with the technology. Whether it is looking at a way to take care of tedious admin work, or to implement a chatbot that can intelligently answer questions from visitors to your website at any time of the day, the possibilities are wide and varied.
What is AI?
Artificial Intelligence is the development of computer systems that perform tasks that would normally require human intelligence. Prominent examples of these are visual perception, speech recognition, and decision-making.
AI is a broad field and can be anything from chatbots, to algorithms that can predict maintenance schedules for manufacturing plant. A lot of companies have become interested in AI because of the savings it can create in business and lead to greater profits.
In this rapidly chancing age of technology, every company also has to keep abreast with developments if they are to keep up with their competitors. There are innovative and on the ball companies who are helping to bring technology to the fore in South Africa.
Below we list the top 5 AI companies to look out for in South Africa.
List of AI Companies In South Africa
SmartMin
SmartMin is an AI solutions company offering turnkey solutions to businesses in different industries. It is also the first of mining AI companies in South Africa that offers operations-focused training to organizations. SmartMin offers training to individuals and organizations with the goal of having in-house AI expertise.
SmartMin offers end to end AI solutions to companies across different industries.  Their flagship product is GS-Pred grade prediction tool  which could have long-reaching implications for the mining industry. According to SmartMin, they are able to determine concentrations of ore without traditional assays, offering mining companies the ability to reduce costs in what could be a lifeline for the flailing mining economy in South Africa.
Using machine learning, SmartMin is helping mining companies to determine the locations of ore bodies as well as concentrations, using the historical data that the company already has. Smart Arc is also driving solutions related remote mining, which can assist operations to mine reefs that were previously not economically viable.
DataProphet
DataProphet is one of the pioneers of AI in South Africa and already international force, with clients like BMW and others. Led by serial entrepreneur Daniel Schwartzkopff, and data scientist Francis Cronje, Data prophet focus on foundry process and has been operating since 2016.
They use AI to understand the relationships between processes in manufacturing. Using the insights from production data, they can guide clients to help eliminate defects and minimize down time.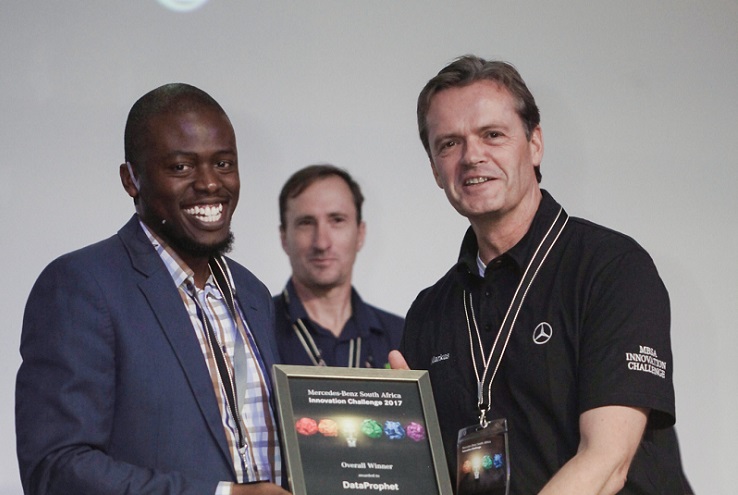 The company's business is mostly based overseas according to Schwartzkopff and in 2018 they secured a multi-million dollar funding to aid expansion.
Data prophet has made serious waves in the industry and have even won an international award for being one of the AI innovators in South Africa. The company is based in Cape Town and has created an array of solutions for clients in the finance and insurance industries.
Clevva
Clevva is a technology business that specializes in what they call Intelligence Automation. Their main product offering is the CLEVVA platform which is a virtual adviser, chat bot. The platform focuses on empowering business users to augment their skills with the AI without any knowledge of coding. The developed technology platform allows companies to capture and scale their sales and support systems.
Customers that Clevva has worked with include Telkom, Nedbank and Momentum among others. The company has been around since 2011 and is based in Somerset West. They offer customers responsive intelligent decision-making GPSs that relieve them of the burden of know what to do or say next based on a required formula.
Cortex Logic
Cortex Logic is an AI / Machine Intelligence software & solutions company that provides an AI engine for platform businesses and corporates and solves well-defined and operationally relevant problems through operationalizing data science and big data & analytics. The company is headed by Dr Jacques Ludik, an entrepreneur and veteran in the AI field, with over 25 years experience.
The Cortex Group works across multiple business and industry domains to develop cutting edge intelligent systems and AI driven companies / platforms that leverage our unique mix of IP, access to funding, technology, people, partners and extensive community.
The company aims to be a dominant player, not only in South Africa but internationally as well. Dr Ludik of Cortex Logic is also the founder of the Machine Intelligence Institute of Africa, a Cape Town based nonprofit organization that aims to help transform Africa by fostering an innovative community and accelerator to help address Africa's problems.
Xineoh
Xineoh is a tech company that helps clients in the retail industry to predict consumer behaviour using data. The company was established in 2014 and is developing AI technologies that have been applied in marketing campaigns for clients in the real estate and mortgage industries. In the retail industry, by knowing what products consumers will buy, the predictor algorithm allows business clients to hold the minimum amount of inventory and make the most use of working Capital.
The strategy of the Xineoh is to provide technology that can be implemented at a relatively low cost and has a low level of complexity. This is particularly useful in the local market where the adoption of the data economy is slower. According to the Company's CEO:
"At Xineoh, we have built a software platform for companies that might have unstructured, unclean data. It's more robust and flexible and therefore more suited to the local market,"
Recently, they have beem workign on a generalizable behaviour prediction machine which is being offered to businesses as a SaaS product. The company which was started in Bloemfontein is now based in Johannesburg.
More on AI in South Africa
Leveraging Artificial Intelligence
According the Dr Steven Zhang of SmartMin, AI can be applied to virtually any business to increase efficiencies, even in companies you wouldn't think of. An unexpected application is in real estate where you can use AI to accurately determine the value of a house based on available sales data in the neighborhood. Machine learning has allowed computers to process data at an unprecedented scale and allow computers to learn.
The retail market abroad has seen a revolution thanks to AI. Customers increasingly prefer the streamlining of their buying process and retail experience. People are becoming increasingly accustomed to buying online and it will become the norm. This provides retail companies with new opportunities of marketing that are unprecedented. Based on a customer's data profile collected from the eco-system of connected devices, retail companies can market to consumers in personalized ways that can even predict a consumer's need for a product before they even think to buy it.
Banks are also interested in AI and in driving the greater part of the Customer Relationship Management to platforms where they can leverage data. Locally, FNB has been leading the way on this front. This can be seen with the push over recent years towards that FNB app and how it has changed the banking experience.
Using AI to augment Human processes
A lot of skepticism surrounds AI based on the fears from people that AI will take human jobs. There are two ways to look at AI in the business and it can be applied differently depending on an organization's philosophy. Automation is the process where machines are employed to perform processes in place of humans.
The more popular view in forward organizations is the use of AI to augment human processes. Because of the efficacy of AI in dealing with simplified processes, a company can use AI to take care of menial and time-consuming tasks in order to free up employees' time and energy resources on more complex tasks.
To quote Barry Hatfield from Dimension Data, the robots are coming and we need to figure out how to work with them.
Accessibility of AI
AI is very much like a toolbox. It is not necessarily just for large corporate companies with big budgets. There are applications of AI for small businesses, especially with menial tasks and basic customer relationship management.
Any business can use AI to their advantage. The sophistication of the AI being used depends entirely on the requirements of the specific business.
To find out more about AI and possible applicability to business, read the article on different unique use cases for artificial intelligence in small businesses.
A lot of interest internationally
Businesses from overseas are taking a keen interest in the development of AI in South Africa. There are various reasons for this. Companies working out of South Africa have a large cost advantage to companies abroad looking to increase their footprint.
The market in South Africa is still in its infancy and is dominated by experts because it has not gone quite mainstream. So the data science skill concentration is quite high as it is mainly experts in the field while there isn't a substantial amount invested by locally based corporations.
For this reason, there has been a lot of activity in the off-shore venture capital scene over the past 3 years. Several startups, including some in this list, have received funding from venture capital firms based abroad.
This speaks to the bright prospects of artificial intelligence in the country. We are at the beginning of the fourth industrial revolution and it is a good time to be involved in the space.